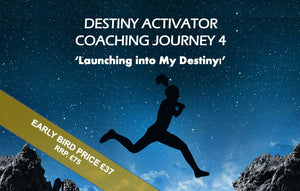 DATE: Saturday 4 February, 2023
TIMING: SESSION 1 - 10am-12.30pm & SESSION 2 - 2pm - 5.30pm (UK time)
VENUE: Zoom based live online program, with breakout rooms and coaching included 
COST UK: £75  
COST USA: (based on exchange rate of 1.21):  approx. $91
(USA and other time zones can purchase this course to watch recorded afterwards)
What does launching into my next level of destiny look like?
What steps can I take? 
How can I know what is for now and what is for later?
How can a devise a plan and strategy, which is God-led?
What are my obstacles and how can I overcome these and launch into all that God has for me?
Who's this suitable for?
Any Christian who wants to understand how to launch to their next level of destiny. 
Any Christian who wants to hear from God afresh and co-create a plan with Him to launch into their calling in a greater way. 
-Leaders, coaches, anyone who desires to align with their current season and take time to create steps which they can with faith and God step forward into their next level.   
Have you attended a Destiny Activator before? If so, as this is an expanded version of part of the previous Destiny Activator program you may be interested in experiencing the new material which expands out previous themes. 
Prerequisites
There are no prerequisites for this course. You can attend Journey 4 on its own, or in conjunction with the other journeys. 
Some Expected Outcomes
❇️ Creation of a short-term, medium term and long-term plan and strategy
❇️  Understanding of how various 'jigsaw pieces' of your life come together
❇️ Learning how to hear from and co-create with God
❇️ Confirmation and clarity of direction
❇️ Affirmation of calling
❇️ Discovery of which of your anointing, gifts and talents to focus on
❇️ Understanding of the meaning of past and present seasons
❇️ Discovery of what God has put in you for your future
 What exactly is this workshop? 
During this one day online workshop, you will, with a small group of fellow explorers, go on a journey of discovery, which will 
You will be taken through some teaching, and lots of coaching, through group discussion and breakouts rooms where you will coach each other in this highly interactive online coaching workshop. 
Many times we may have given up on pursuing an idea or vision that has seemed either too big or maybe seemed to difficult to step into. The reasons may be numerous; our circumstances, lack of resources, lack of confidence or support.
At this time, the beginning of 2023, It's an ideal time to take time out to reflect, hear from God afresh about His purposes for you and what your current season is all about.
This time will lift your confidence through growing your awareness of your gifts, preparation that God has been taking you through, your purpose, more defined vision for the future and an action plan for the year ahead. 
This workshop will help you to clarify important truths, uncover obstacles, some you may know about, others than you may be unaware of. It will help you create a highly motivating, sustainable strategy and a clear plan to move forward, which works for you personally.
 More about what you will be learning 
What is it God wants you to launch out into?
What preparation is there for you still to go through?
Destiny Coaching's Co-Creative Biblically based coaching tools work with Holy Spirit to bring you light, clarity and revelation to the topic of being fully activated into your calling.
You will learn how to align your mindset, listen to God and craft your personal path which fits your season and you personal and unique calling. 
You will have the opportunity to listen to Holy Spirit, through powerful coaching questions designed to bring you clarity.
During this one day coaching workshop, you will 

✅ Learn to listen to God in fresh ways

✅  Experience Biblically-based Co-Creative Coaching tools
✅  Gain a clear focus for what to do next
✅  Be encouraged, empowered and stretched! 
 

 

Led by Tina Southgate, Founder of Destiny Coaching Ministries and Team


Tina is a seasoned master coach, and author of the unique co-creative coaching model which is a Biblically based coaching approach which coaches at a heart and spirit level.

Tina loves seeing people set free to pursue their purpose whilst learning how to hear from God and journey closer with Him as part of the journey. 
This unique life coaching workshop will help you ground your ideas into strategy.  
Take time out from your busy schedule to connect with your heart and with God to be coached into breakthrough and fresh revelation. 
TESTIMONIES FROM PREVIOUS WORKSHOPS 
"When you told us at the beginning of the workshop that by the end we would know what to do next, I scoffed! I can't believe it. I now know! I've been to conferences, read so many books and done so many other things for years but this worked!"

"I've been to events that concentrate on the supernatural and ones that are very practically based. I've never been to anything like this before. You so naturally have integrated the two together"
"Just wanted to say how much the life coaching course made a change in my life. After a really tough year I was feeling without hope. "
"I learned how to listen to Holy Spirit, as well as practical steps like goal setting."
"I now have a timeline, and next decisions made!"
MORE TESTIMONIES
"I walked away from the workshop with an action plan that I can actually use.  I've achieved more in 3 weeks than I had in the 3 years since" Lisa Van De Berg
See Lisa' video testimony
The Destiny Activator 'Journeys' were created by Tina Southgate, Founder of Destiny Coaching Ministries and an experienced leadership coach, coach trainer, mentor, speaker and writer.
Having attended 3 years at a leadership ministry school, in Redding, California, Tina travels between England and North America delivering coaching programs which equip Christians. 
These programs have been delivered to thousands of believers since 2012 with thousands of testimonies of breakthrough. Tina also leads an online coach training school which equips leaders with skills to fully empower and release those they lead into their unique life purposes.
"It gave me tools to make my destiny attainable" Rosy Ashley
See Rosy's Video

Read Dozens More Testimonies Here
See More Video Testimonies Here