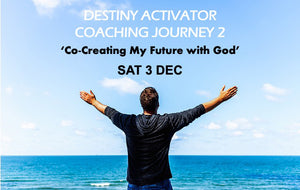 DATE: Saturday 3 December, 2022
TIMING: SESSION 1 - 10am-12.30pm & SESSION 2 - 2pm - 5.30pm (UK time)
VENUE: Zoom based live online program, with breakout rooms and coaching included 
COST UK: £75  
COST USA (based on exchange rate of 1.21): $91
Are you ready to go to the next level?
How do you hear from and co-create with God?
How do you turn ideas into reality?
Why is it important to dream big?
What is your unique life purpose?
How do you live with and sustain passion and motivation?
Who's this suitable for?
Any Christian who is ready for more! Any Christian who wants to hear from God afresh about their purpose and their potential in Him. 
-Leaders, coaches, those that consider themselves 'ordinary' alongside those who know they are made for extraordinary purposes! 
Have you attended a Destiny Activator before? If so, as this is an expanded version of part of the previous Destiny Activator program you may be interested in experiencing the new material which expands out previous themes. 
Prerequisites
There are no prerequisites for this course. You can attend Journey 2 on its own, or in conjunction with the other journeys. 
Some Expected Outcomes
❇️ Clarify and expand your vision
❇️ Learn how to hear from and co-create with God
❇️ Understand your motivational keys to success
❇️ Be released to dream big dreams 
❇️ Creation of a highly compelling life vision

❇️ Discovery of what God has put in you for your future
❇️ Stretching yourself to envision with God
 What exactly is this workshop? 
During this one day online workshop, you will, with a small group of fellow explorers, go on a journey of discovery, which will connect you with precious treasure buried deep in your heart. 
Together we will draw together both the practical and spiritual giving you fresh perspective of how to activate your next level of destiny.
 More about what you will be learning
The Bible says a desire fulfilled is a tree of life.

But life takes over. 
Our responsibilities, our beliefs of what we 'should' do and our fears of what we need to do can squash God given desires that we carry which are key to our individual purposes.
How do we unlock our hearts again?
What is in our hearts that can give us profound revelation of what we were created for?
Unlocking what is in your heart will answer key questions such as:
How can I understand what plans God has for me? 
What does stepping out in faith in my life look like? 
What has been holding me back from my fullest potential? 
What does living as a beloved son or daughter look like for my life?
How can I understand what I'm missing out on? 
During this one day coaching workshop, you will 

✅ Learn to listen to God in fresh ways

✅ Experience Biblically-based Co-Creative Coaching tools
✅  Experience healing as God shows you what He has for you
✅ Be encouraged and blessed 

 

 

Led by Tina Southgate, Founder of Destiny Coaching Ministries and Team


Tina is a seasoned master coach, and author of the unique co-creative coaching model which is a Biblically based coaching approach which coaches at a heart and spirit level.

Tina loves seeing people set free to pursue their purpose whilst learning how to hear from God and journey closer with Him as part of the journey. 
This unique life coaching workshop will grow you exponentially.  
Take time out from your busy schedule to connect with your heart and vision being coached into breakthrough and fresh revelation. 
It's a fun, interactive and unique life coaching workshop will give you tools to discover and grow your life vision.
Take time out from your busy schedule to re-connect with your heart and vision and discover unique Biblically based life coaching tools that will bring breakthrough.
TESTIMONIES FROM PREVIOUS WORKSHOPS 
"When you told us at the beginning of the workshop that by the end we would know what to do next, I scoffed! I can't believe it. I now know! I've been to conferences, read so many books and done so many other things for years but this worked!"

"I've been to events that concentrate on the supernatural and ones that are very practically based. I've never been to anything like this before. You so naturally have integrated the two together"
"Just wanted to say how much the life coaching course made a change in my life. After a really tough year I was feeling without hope. "
"I learned how to listen to Holy Spirit, as well as practical steps like goal setting."
"I now have a timeline, and next decisions made!"
MORE TESTIMONIES
"I walked away from the workshop with an action plan that I can actually use.  I've achieved more in 3 weeks than I had in the 3 years since" Lisa Van De Berg
See Lisa' video testimony
The Destiny Activator 'Journeys' were created by Tina Southgate, Founder of Destiny Coaching Ministries and an experienced leadership coach, coach trainer, mentor, speaker and writer.
Having attended 3 years at a leadership ministry school, in Redding, California, Tina travels between England and North America delivering coaching programs which equip Christians. 
These programs have been delivered to thousands of believers since 2012 with thousands of testimonies of breakthrough. Tina also leads an online coach training school which equips leaders with skills to fully empower and release those they lead into their unique life purposes.
"It gave me tools to make my destiny attainable" Rosy Ashley
See Rosy's Video

Read Dozens More Testimonies Here
See More Video Testimonies Here